SIGNIA Pure™ Charge&Go 7Nx Hearing Aids + Streamline TV Transmitter
SIGNIA Pure™ Charge&Go 7Nx Hearing Aids
The most natural own voice with convenient




wireless rechargeability.
SIGNIA Pure™ Charge&Go 7Nx Hearing Aids are the ultimate RIC. Pure Charge&Go Nx combines all the advantages of Signia Nx with convenient wireless rechargeability. It provides the most natural own voice and unrivaled speech intelligibility, top Bluetooth connectivity, full live remote support with Signia TeleCare 3.0, and the most high-tech wireless charging in a remarkably small design. Wearers no longer worry that they might struggle to change disposable batteries. Simply Charge&Go!
Signia Nx Signia Nx, the world's most advanced hearing aid platform, delivers unsurpassed first fit acceptance by combining uncompromised audibility with a natural sounding own voice. The world's first Own Voice Processing (OVP™) improves spontaneous acceptance of one's own voice by 80% of
dissatisfied hearing aid wearers.* 
The natural sounding own voice provided by Signia Nx allows hearing care professionals to fine-tune the hearing aids for optimal audibility of the entire acoustic environment without having to compromise this audibility to improve the sound quality of the wearer's own voice. Signia Nx with OVP™ replicates the natural hearing
experience to deliver the highest sound quality. It releases the hearing aid's full potential for best hearing performance in any situation, even in very noisy  environments.
To fully replicate nature, a hearing aid also needs to work as seamlessly as possible for maximum wearer confidence. That means doing away with conventional batteries to ensure a completely natural experience so the wearer has confidence in a natural sounding own voice, great speech intelligibility, and effortless, continuous hearing aid performance.
* 2017 "OVP Study" conducted at University of Northern Colorado
examining the effect of Own Voice Processing on spontaneous
acceptance after first fit of hearing aids.
Further details: www.signia-pro.com/ovp-study
Signia Nx with OVP™ for the most natural own voice and highest acceptance.
Replicating nature.
Smart Phone integration for your convenience with hands-free voice command for ease of access.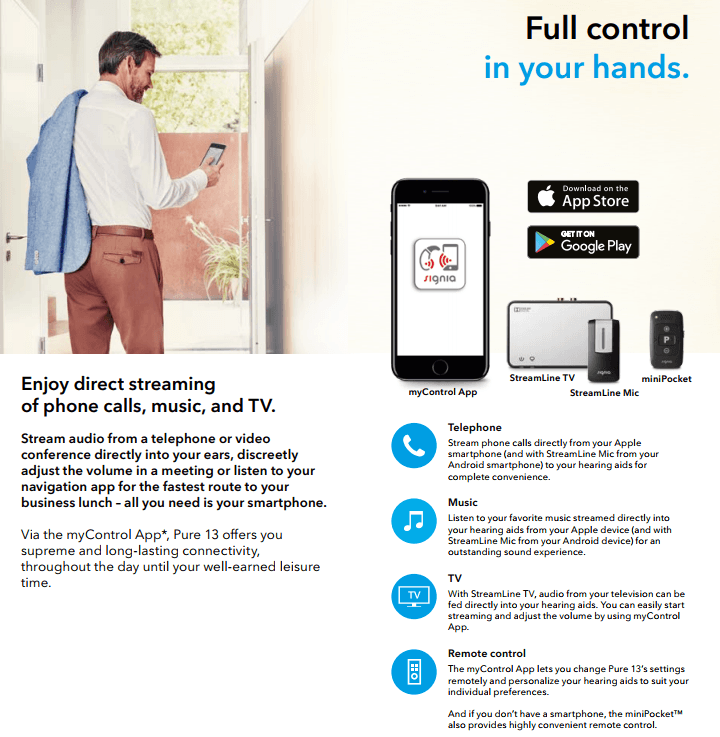 Your natural choice for performance and hearing. Whether you're in a meeting, taking an important business call, preparing a presentation or meeting colleagues for lunch, with SIGNIA Pure™ Charge&Go 7Nx Hearing Aids + Streamline TV Transmitter you can enjoy the most natural sound experience along with superior connectivity and the longest wearing time while audio streaming from your smart phone and TV.